Women's Artistic Gymnastics (WAG)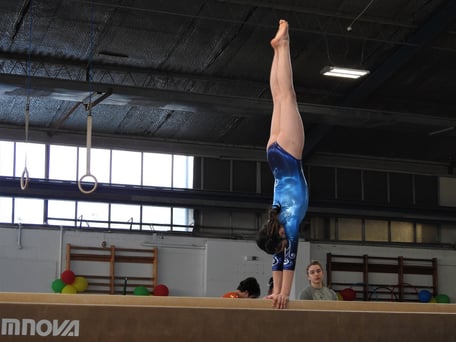 Women's Artistic Gymnastics
For more information on STEPs please contact hayley@dunedingymnastics.co.nz
For more information on Perform please contact sapphire@dunedingymnastics.co.nz
At DGA, we offer two competitive streams in our WAG programme. STEPs and Perform.
Women's Artistic Gymnastics (WAG) consists of four different apparatus; vault, uneven bars, balance beam and floor exercise. At DGA, WAG is offered at a competitive level in two different programmes. Please see the links below for more information on trialling for our competitive programmes.
Perform
Perform is a regional competitive programme, used by several clubs throughout the country. These classes are invitation only and are best suited for gymnasts who wish to challenge their skill levels and compete at a regional level. The perform programme is great for gymnasts who enjoy a social training environment, with less commitment and intensity in training. Perform have a skill criteria to master at each level, with the flexibility to change skills to suit each gymnasts ability.
Participation
Enthusiasm
Reward
Fun and Friendships
Opportunity to compete
Resilience
Mastering skills
Perform gymnasts compete in Dunedin and have the opportunity to travel to other cities to compete as well. A competition schedule will be sent at the start of each season to let families know the intended competitions for the year. Perform gymnasts wear a compulsory, club leotard that can be worn with plain black shorts, to the competitions.
For more information on Perform please contact sapphire@dunedingymnastics.co.nz
STEPs
The STEP programme is the National competitive programme. STEP stands for Striving Towards Excellence in Performance. At DGA, we also offer a pre-competitive class that prepares gymnasts to enter into the STEP programme.
STEP 1-4 compete compulsory routines and exercises.
STEP 5-6 compete compulsory skills with optional routines. There is some flexibility at these levels to compete different variations of skills.
STEP 7-10 compete optional routines and skills. The gymnasts compete routines based on the routine requirements and bonus skills.
The STEP 5+ routines are designed so the bonus or more difficult skills in one STEP are the core requirements or basic skills for the next STEP. This makes the progression moving from one STEP to the next a smoother transition. It also means that if a gymnast is required to repeat a STEP, they will have other options of skills to improve on and change within their routines.
In STEP 1-8, gymnasts compete in two age divisions, Unders and Overs. Overall and apparatus placings are divided using the age categories, however, teams are made up of Unders and Overs combined. Gymnasts must be 6 to compete in the STEP programme.
Gymnasts are required to reach a minimum qualifying score to be able to progress in the STEP programme. This is a minimum guideline to move up, and DGA has other criteria to achieve to successfully move to the next STEP. Gymnasts in STEP 5-10 are eligible to represent Otago at the National Championships and must achieve set criteria to be selected for this.
For more information on the STEP programme, please see the Parent Handbook or contact Hayley, hayley@dunedingymnastics.co.nz