DGA Holiday Programme Information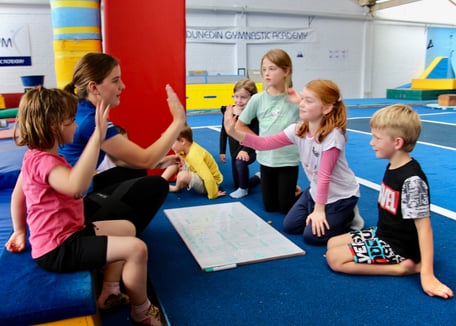 A message from our Holiday Programme Lead Coach, Cailie!
"Hi everyone! We are really exciting to have your kids joins us for another one of our Holiday Programmes. Please remember this information if you have booked in with us- we can't wait to see you!"
What should we pack?
Water Bottle
Morning tea, lunch and afternoon tea if particapting in a full day.

Morning tea if half day a.m. session.

Lunch and afternoon tea if half day p.m. session.

Warm clothes that are easy to play and tumble in.

No zips on clothing and no jewelry.

Spare clothes if child is prone to accidents.

Medication (if necessary) with instructions for coaches.
What are the drop off and pick up times?
Morning Session: Drop off from 8:45am, pick up by 12:30pm.
Afternoon Session: Drop off from 12:30pm, pick up by 4pm.

Full day Session: Drop off from 8:45am, pick up by 4pm.
Please use street parking for drop off as gym carparks are reserved.
Please respect our coaches' time by collecting your children by 4pm, alternatively, please let us know if you are running late.
We request that parents leave promptly upon dropping their children off. Our coaches are great at ensuring all kids are comfortable, however parents remaining in the gym past drop off can discourage kids to participate and may trigger other children who are missing their parents.
If you need to contact Cailie about the Holiday Programme you can find her email below. cailiejaneward@gmail.com